WELCOME TO NEW CHICAGO
New Chicago is located in Lake County, Indiana. The town occupies less than one square mile and is nestled between the City of Hobart, the City of Lake Station, and along the Deep River waterway.
Interstate 80/94 runs just north of town, Ridge Road is the southern boundary, Interstate 65 is to the West, and Indiana Route 51 runs east of us.
New Chicago is predominately a residential community in an urban region characterized by industrial, manufacturing, and transportation activities.
As of the 2020 census, there were 879 households and a population of 1,999.
Tranquil residential life and small-town activities occur here within the Greater Region of Northwest Indiana.
It is less than a 15-minute drive to the beaches of Lake Michigan, the neighbors are friendly, and there are welcoming houses of worship, three parks, and community activities.
New Chicago is a great place to work, play, and live – come check us out!
HISTORY of NEW CHICAGO
New Chicago lies on the fore slope of what was once the site of Lake Chicago, now called Lake Michigan from the Ojibwa (Chippewa) Indian words for big lake, "michi gami". As the glacier retreated, levee lakebed areas, sand bars, and old beach ridges were left. This sandy region is known as the Calumet Lacustrine Plain and is marked by Ridge Road, which forms a southern boundary of New Chicago. The Little Calumet River passes to the north of New Chicago.
Although many of the original natural features in Lake County have been lost to urban development, New Chicago still has undeveloped parcels with remains of ancient dunes. Native flora and fauna are still familiar sights in our neighborhoods and parks.
The Deep River runs through the central portion of New Chicago and is of local significance. This stretch of the river remains relatively primitive and undeveloped, with major topographic changes, good stands of remaining woodland, and some significant wetland areas. Therefore, it has considerable potential for walking trails and recreational purposes.
In 1836, Henry Fredrickson and John Chapman purchased land from the government on the Calumet River, and in May, the town of Liverpool was platted.
Stores and hotels were built there to serve travelers on the Michigan City – Joliet stage line.
George Earle, an architect, builder, and early area resident was instrumental in having Liverpool named the county seat. However, in 1840 a new committee appointed by the legislators moved the county seat to Crown Point. The old courthouse building was sold and floated westward on the Calumet River to be used as a tavern in Blue Island, Illinois. After the loss of the county seat, Liverpool stopped growing. The town of Liverpool is now gone, today the area it covered is encompassed by New Chicago and the neighboring town of Lake Station.
The Joliet & Northern Indiana Railroad line, leased to the Michigan Central Railroad in perpetuity in 1851, closely followed an old Indian trail through the area. A depot was erected in Liverpool, and the line was placed into operation in June 1855. In 1910, the train stopped in New Chicago.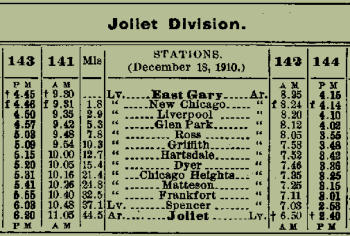 Built in the 1880s, New Chicago's Town Hall was once a one-room schoolhouse. It is now home to our municipal offices and Town Council Chambers. New Chicago's municipal departments include a volunteer fire department, a water department, a park department, and our own police force. Until 1977, there was one police officer in town, and the dispatcher answered the phones from their home day and night.
New Chicago was platted in 1893 and was incorporated in 1908. New Chicago became a summer resort town for steel-mill workers; many of the first homes had no heat or running water because they were used only seasonally.
The growth outlook brightened in 1906 when United States Steel Corporation began platting and building the City of Gary. It was thought that a suburb outside the City of Gary might become the home of the officers, executives, and professional staff of USS Steel and other area industries.
Homes were built in New Chicago featuring hardwood floors and basements and were sold for $12,900.
A post office opened in New Chicago in 1907 and remained in operation until discontinued in 1917.
According to a former local barber, there were once 30 drug store licenses in New Chicago simultaneously. During the Prohibition years, if you had a drug store license, you could set a bottle of aspirin on the shelf, call yourself a drugstore, and sell wine and beer. It was quite a bootleg place in those days!
In the 1950s, just after the Korean War, another spurt of significant development occurred in New Chicago. As a result, new Chicago's population peaked at 2581 in 1980.
Today, we are a small blue-collar community where everyone knows your name. Now, our local businesses include two gas stations, a Dunkin' Donuts, a Mexican restaurant and bakery, a produce and grocery market, a pizza shop, and more.