The New Chicago Street Department handles the patching of potholes, leaf/stick pickup, and other operations during the last two weeks of the month. If an emergency arises (i.e. severe storms causing large amounts of damage), other operations will be put on hold to address these issues before the normal work cycle at the end of the month.
Street Department Contact Info:
Town Hall #: 219-962-1157

Town ROW (Right of Way)
Any areas between the street and the sidewalk are the responsibility of the property owner. This includes any grass areas and trees. See Chapter 11 – Property Maintenance Code of the Town of New Chicago Ordinances for more information regarding property maintenance.
Fire Hydrants & Winter Months
During the winter months, if you have a fire hydrant on or near your property, we ask that you please remove any snow from around the hydrant. This will not only keep the hydrant from freezing in the winter, but in the event of an emergency, the fire department will be able to hook up to the hydrant much quicker. Taking a couple of minutes to keep the fire hydrant clear will save valuable time when time is of the essence.
Snow Routes
Snow removal through the town only takes place Monday – Friday from 8am to 5pm except for the following emergency routes (highlighted in yellow in the image below):
Ridge Rd (37th Ave) from Indiana St to Pulaski St
Wisconsin St from Ridge Rd (37th Ave) to Deep River
Michigan St from Ridge Rd (37th Ave) to 29th St
Huber Blvd from Indiana St to Wisconsin St
Indiana St from Tyler St to Ridge Rd (37th Ave)
Tyler St from N. Lake Park Ave to Indiana St
Van Buren St from N. Lake Park Ave to Michigan St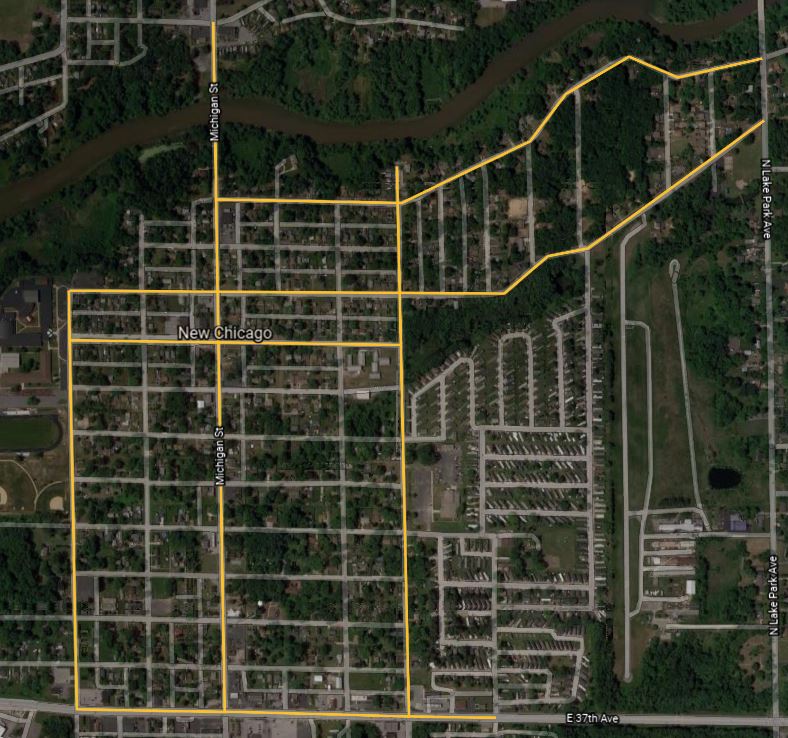 Upcoming Road Projects
The following road projects are currently being looked at for 2022: